How to Take Advantage of Business Reviews on Your Stacked Site
Let's admit it. Way before Google or any other search engine or social media platform utilised real customer reviews and ratings as a part of a business's marketing strategy, we've long been using this for restaurant and movie bookings – and today in the world of web design and development, the concept is exactly the same. The truth of the matter is that people love to read reviews before selecting one particular service provider for themselves.
Say we're on the hunt for the best pet care centre in town. Then this list of pet care centres in Brisbane comes up…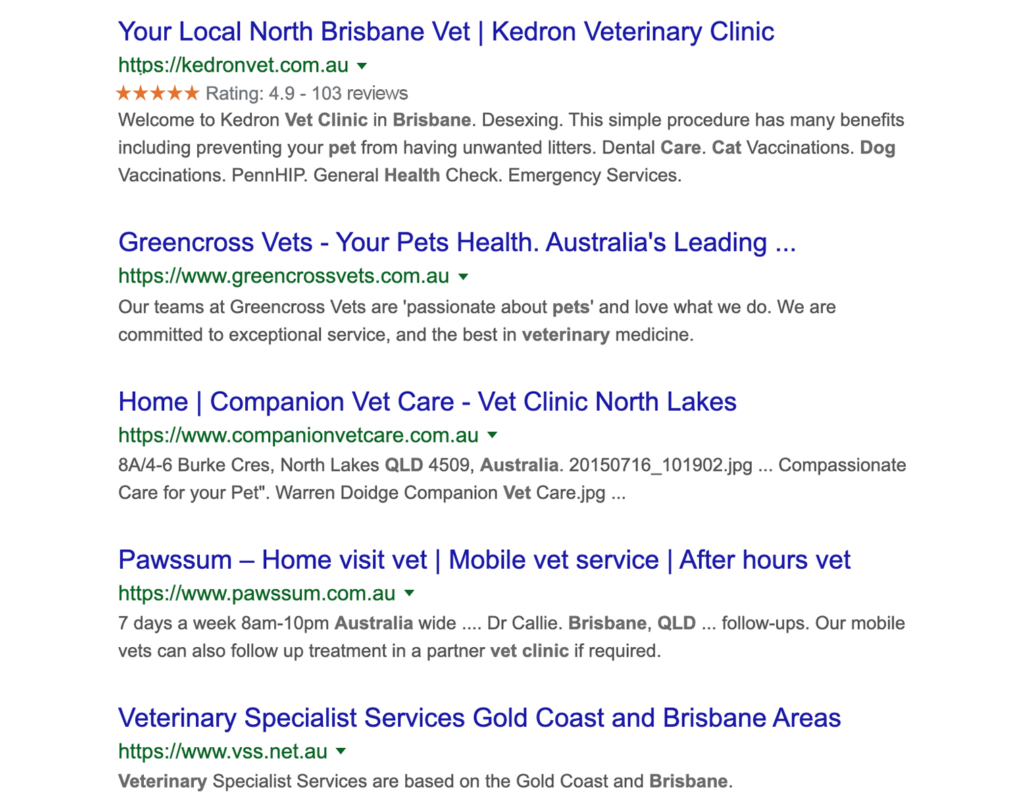 It's almost automatic that a searcher would click on the most "trusted" and "reliable" place where a pet owner would feel at ease, knowing that their beloved pets are in good hands.
Looking at the given example, the first one on the list would be the most appealing. Not only does it show how many customers have tried their services. It also shows a high rating of 4.9 stars out of 5. And just below that is a short description of what they do best.
With the latest developments in Stacked Site's features and functionalities – we want you to take advantage of the Business Reviews Module introduced in the ultimate addons for Beaver Builder.
What does this module do?
It fetches reviews from Google and Yelp and allows you to embed this information on your website.
It enables a rating schema type that keeps search engines informed about it and therefore boosts the chances of displaying ratings in the rich snippet as seen in the example above.
What are the benefits of using this module?
It provides more content for search engines to scan and it increases the chances of product or services page to rank for long-tail keywords.
This module gives you an additional piece of content to differentiate your branches set in different locations or even from another business providing similar services.
It gives the page an opportunity to rank for words that users often use apart from the marketing phrases you use on your website.
It allows for real customer reviews to empower your brand through user-generated content that is more trusted than manufacturer descriptions.
Now that you're ready to get this module up and running, let us go over the steps and see how easy it is to set it on your Stacked Site website.
How to Add Google and Yelp Business Reviews to Your Stacked Site
Configure the Google API and Yelp API key form the UABB settings.
For Google reviews – get the Google Place ID and for Yelp reviews – get the Yelp Business ID. Add it to the module.
Enable the schema support and choose a schema style
That's it! You're good to go!
This easy setup also allows the Business Reviews Module to align with your design and colour theme. Here are a few points that show how this module help…
Display content with sliders
Many of us like moving content on a website. The Business Reviews Module allows displaying reviews in a carousel. It also has an option for grid layout with a column number setting.
Filter out negative reviews
During the starting phase of your business, you might get some negative or low-rated reviews, which is totally fine because negative reviews can contribute to a positive impression. But in case you don't want to show them choose Minimum Rating and skip them from displaying.
Display starred rating to shine in different colours
The widget provides total control on the star rating style. Set a nice colour and size to make them more attractive.
Display Reviewer Information to make the review look more genuine.

Along with a review text, display reviewer name, and profile photo. So that users can know that the review is real.
How to get Business Reviews Module for Beaver Builder
All you have to do is update Ultimate Addons for Beaver Builder to the latest version and enjoy using this module.